LATEST PRODUCTS
Thomas The Tank Party Invites 2012

Price £3.25
Thomas The Tank Paper Plates 2012

Price £2.99
NEWS & EVENTS
Chuggington Diecast Sale Now On
All Chuggington diecast models now reduced, hurry while stocks last.
New Chuggington Wooden Railway...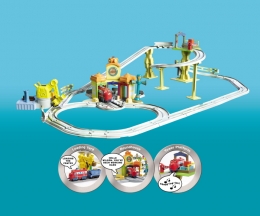 Chuggington Interactive Playset - All Around Chuggington
A magical set that brings your Chuggington world truly to life!
Interactive talking Vee within the All Around Chuggington feature playset tracks and directs a childs play, she will recognise the engines included in the play and give them each a specific job to do "Hello Wilson" "Pick Up at Chuggington depot!" when it is done each engine will get a personalised reward "You've been working hard Wilson, here is a new horn!".
The set includes interactive Wilson, Roundhouse with Vee, tunnel, crane, bridge and 39 pieces of track. Wilson and Vee will recognise and greet each training stop included and will recognise any new engine or training stops added in the future. This set has over 250+ sounds and phrases (when used with other Chuggington interactive products). Featuring the actual voices from the Chuggington show and includes catchphrases such as "Let's ride the rails!" and "Wake up Chuggington!".
Chuggington Interactive is a magical open ended play system featuring iconic destinations and characters from the BBC's CBeebies top rated preschool show Chuggington. Each Interactive talking engine features Smart Talk technology which enables them to instantly recognise any other engine, react to any train stop and respond to your play! Age 3+
Please note the purchasing of all products on this site is currently disabled, please check back soon when we reopen - hope to see you then!
Price £62.50

COMPETITION AND E-NEWS SIGN UP
Free Thomas The Tank Hot Water Bottle
To recieve our enews with details of new products and special offers plus the chance to win a Thomas Hot Water Bottle worth £10.99 in this month's competition. Simply register here.
FEATURED PRODUCTS
Mattel Trackmaster - Percy & The Rescue Cars

Price £16.99
Chuggington - Lunchbag

Price £8.99
Special £5.99
Sylvanian Families - Penguin Family

Price £13.99